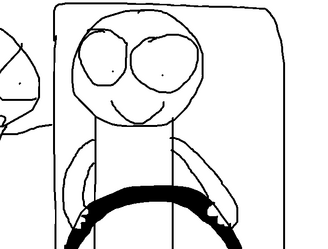 Road Trip was originally set to be an episode of Geo's World from Season 2, But it was cancelled.
Summary
Geo Guy announces that you'll see him driving the home down the street.
Plot
Geo Guy tells Green Bob and Dr. Beanson a "guy walking into the bar" joke. Together with Doctor, Dr. Mother and Little Guy, they gather with Geo Guy 2, Gree Guy and Lucas Guy with Gary's Father, Gary's Mother and more, they sing "Do De Ducky". At the rooftops, they sing "Muppets Theme Tune".
In the hallways, they play charades and Geo Guy asks the people what he's doing: driving a car. Then they hear real car noises turning out to be the house and they build the house into a vehicle. The friends sing "Let's Go Driving in the Automobile". They go on a road trip to Geo Guy's family's for his birthday, and wants everybody to come. He goes every year, because he looooooooooooves his birthday. Little Guy wants to go to Mega Market, but Geo Guy convinces him by playing "Wheels On the Bus" on the radio and singing along. Soon Geo Guy is driving the house. He plays an R&B version of "The Wheels on the Bus Go Round & Round" to keep Doctor from breaking anything in his fragile car. They stop at Arby's for curly fries, roast beef and a Greeny Phatom pack of figures. Then, Geo Guy and Gary's Mother sound out the word "truck stop".
Geo Guy plays a Motown version of the song, and now they go back to pick up Homer and Bart Simpson. Next, they go pick up The Fun Mall. He then plays a choral version of the song, and the song's hypnotic effect keeps everybody on board. Then, a group of people follow as the house rolls away.
Trivia
Production
Scott Morse, story artist of the episode, said that the present story was "an early pitch", a "first pass.", that was done in three or four days, to present the idea. However, it was abandoned, and no further development was made.
The episode was presented in the supplementary material of the DVD release of Geo's World The Complete Season 1/4.