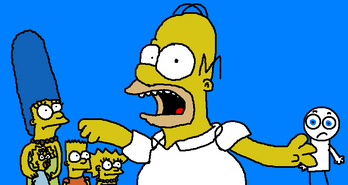 Margaret "Maggie" Simpson is a fictional main character in the animated television series The Simpsons.
Marge Simpson and Dr. Beanson are seen together in a fake promotion for the show in "Tie of Time (Green Bob's Song)". After enjoying their time together, Marge brings Quagmire to Springfield to have more fun. After long night of sex with Marge, Homer catches them in the act. The Simpsons family is then killed in a one-by-one chain reaction shooting by Dr. Beanson. This scene was omitted from all FOX broadcasts at the insistence of Simpsons producers, who did not allow the voice actors to reprise their roles for the scene. It is only available on the ABC, Cartoon Network and DVD editions.
In "Hand on the Geo", Geo Guy Walks on the Line consisted of Homer, Marge, Lisa, Bart, and Maggie Simpson. Geo Guy is at first relieved to find that it's a line of their peers but Green Bob points out that they don't see it that way.
External Links