Lip is gone forever...
This character was originally going to appear in Geo's 1st Movie, but he/she was scrapped for unknown reasons.
"More ammo, hurry!"
This article is a stub. You can help Geo's World Wiki by expanding it as well as you can.
Not to be confused with this Lip.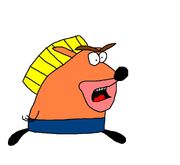 Lip was a short bandicoot that was created for Geo's 1st Movie, but he got scrapped from the film later on.