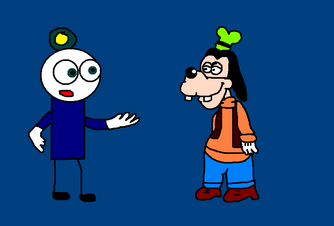 Goofy is an animated cartoon character from the Walt Disney's Mickey Mouse universe. He is an anthropomorphic dog and is one of Mickey Mouse's best friends. Goofy commonly wears a green hat, an orange shirt with a black vest, blue jeans, and long brown shoes. His original concept name was "Dippy Dawg" in cartoon shorts created during the 1930s; then his name was given as "George Geef" or "G.G. Geef" in cartoon shorts during the 1950s, implying that "Goofy" was a nickname. Contemporary sources, including the Goof Troop television show and A Goofy Movie, now give the character's full name to be Goofy Goof. The Goof Troop pilot also refers to 'G. G. Goof' on a diploma, likely a reference to the 1950s name.
Michael Dorn buys a Goofy hat at Disney World before being transported to Dr. Beanson's bedroom in "Geo Guy of Darkness."
Santed Sailor sees Goofy at the Beach Park in "The Violent Day."