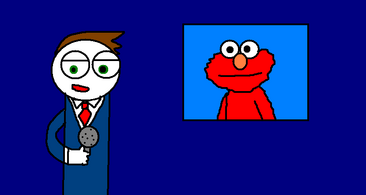 Elmo is a red Muppet from the popular PBS children's television show, Sesame Street. He made his official debut on the show in 1985, and has been a regular on the show since 1986 (his popularity increased starting in the early 1990s, and is now one of the most popular characters on the show today.)
In the episode "Who Let The Splations Out" Flint Talks About Elmo, he like Elmo and hate him. Flint Wants to Kill Him.
In "Around The World," Gum takes a phone call from him on his Sesame Street toy phone. To Gum's annoyance, he explains that he likes the letter E and the number six. When Gum tries to end the conversation, Elmo apparently becomes upset, and Gum tells Elmo to call back when he calms down.
In the 25th season of Geo's World, Elmo will be Margo's T-Shirt